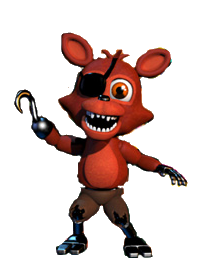 "Back in Order!"
Foxy's Loading Screen Text
Foxy is one of the starter characters in FNaF World!
He is a Red Fox with a Hook and Eye patch.
In the community he is a Fan Favorite unlike BB.
Foxy's Attacks are pretty good at the start but once you get BB or Withered Foxy he is out of the party.
Attacks
Hook
Jumpscare
Hot Cheese
Gallery